How to use a Breeding Calculator
I personally like to use
KittyHelper
for my breeding calculations but there are other sites that offer the same utilities. For my tutorial I am going to use
KittyHelper
to show you the basics of a breeding calculator.
1. Go to
KittyHelper
and on the left hand side click "Breeding calculator".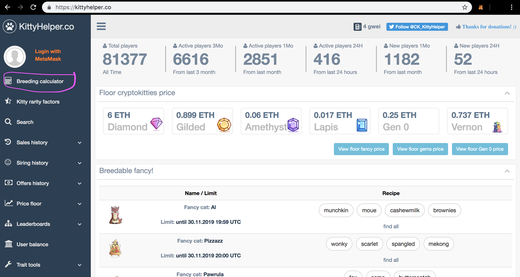 2. Type in the two potential mate's ID number in the "Dame" and "sire" boxes. All kitty's ID numbers can be found under their name. Each kitty has a unique number.
3. Once you have typed in both the ID numbers you will see the different possibilities of genetic variation.
4. At the bottom of the page you will see the key for the different percentages and symbols.

5. If you like what you see you can

breed

them together!